Dedicated to our Fallen Heroes
On November 25th of 2002 our community suffered a tragic loss when three of our local firefighters lost their lives in the line of duty. Captain Randy Carpenter, Jeff Common, and Chuck Hanners all gave their lives as heroes while battling a commercial structure fire in downtown Coos Bay.
This memorial was designed by Coos Bay Firefighters to honor the memory of their lost Brothers and is dedicated to the sacrifices of all firefighters who have given their lives in the line of duty. The bronze sculpture was created by artist Mack Holman. The memorial includes bricks with personal messages from supporters.
---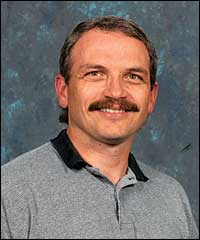 Randy Carpenter Firefighter
"Carp" began his fire service life in Baker, OR in 1980, and his heart and soul never left Eastern Oregon. He joined Coos Bay Fire in 1989. His first priority was family, especially his daughters Sarah, and Stephanie. Randy's professional passion was training, education, and a legacy of "being the best firefighter you can be".
He loved his fire brethren, representing IAFF #2935, encouraging volunteer firefighters, and as a true carpenter, building anything. In 2003, the Randy Carpenter Memorial Foundation was created by his family to continue Randy's work in firefighter training. As of 2006, the RCMF has distributed over $50,000 in grants to help train firefighters in Oregon and Idaho. We are privileged to continue his mission in service and safety - Randy will never be forgotten!
Randy Carpenter Memorial Foundation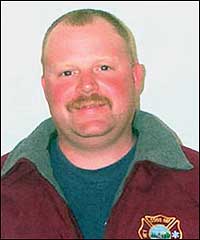 Jeff Common Firefighter
Jeff served the community as a volunteer firefighter for 12 years in North Bend and Coos Bay. He was awarded Firefighter of the Year in 1995 and 2000. Over the years, he was involved in many big mutual aid fires, rescues, and wildland fires.
A lifelong resident of the bay area, Jeff worked with his dad on the tugs and pilot boats at Coos Bay Towboat Co. He attended maritime school and received his U.S. Coast Guard Master's license.
Jeff was a devoted friend, father, brother, and son. He adored his daughter Taylor, and twin sons Brycen and Bailey. He was a loving son to his parents, Chris and Gail. Jeff touched many lives and his memory will remain in our hearts forever.
Jeff Common Memorial Foundation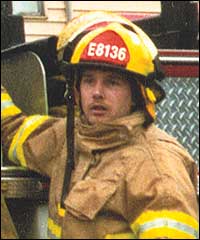 Chuck Hanners Firefighter
Chuck was an exceptional husband, devoted father, and dedicated firefighter. Chuck's passion was firefighting. He "lived" for each call. Chuck encouraged safety and exercised caution. Family meals and holidays including Christmas were always second place to firefighting. Each call was responded to regardless of the time of day or circumstances.
Chuck's family was equally important. Parents, wife, children, siblings, and in-laws were held in high esteem and given a place of honor. Each of his six children were treated with love and concern. Commitment to his family was an example to many.
Family, friends, co-workers at Wal-Mart, and fellow firefighters knew that he could be depended upon to help in any time of need. Most of all, everyone knew Chuck's passion was firefighting.