At City Hall
Welcome to the City of Coos Bay! Thank you for visiting us at our website. It was designed with you in mind – whether a Coos Bay resident, a "future resident." or a visitor – to allow you access to City information in an easy to navigate site.
At City Hall, we are very proud of our community and strive to provide superior customer service. Quality of life issues shape our goals and policy initiatives as we look to continuously improve our city and community. If you are a Coos Bay resident, I look forward to meeting you. If you are a visitor, on behalf of all of us at City Hall, we look forward to welcoming you to Coos Bay on your next visit.
---
Get To Know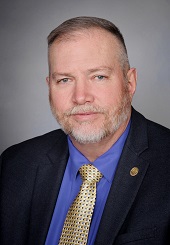 Rodger Craddock
City Manager
Contact
541-269-8912
Helpful Links
× Oregon International Port of Coos Bay

The Port of Coos Bay is Oregon's largest deep-draft port and is the trade and commercial center of the Oregon Southern Coast. The Port operates the Charleston Marina, North Spit Barge Slip, and owns the rail line between Coos Bay and Eugene.

× Coos, Curry, Douglas Business Development Corporation

CCD offers assistance with long and short‐term financing for qualified businesses. Funds are available for business start‐up, expansion, real estate acquisition, real estate acquisition, leasehold improvements, equipment, inventory, and working capital. CCD also administers the Small Business Administration 504 program, which can loan up to 40% of the total project cost, or up to $2 million in certain cases, at a fixed rate and for a term of 10 or 20 years.

× South Coast Development Council (SCDC)

SCDC is an economic development leader and has a goal of maintaining and improving the economic viability of the Southern Oregon Coast. SCDC works closely with groups, both local and state organizations, that offer business assistance. They offer business retention and business recruitment, workforce training, financial support, loans, grants and business seminars.
View All
Purpose
Like most cities in Oregon, the City of Coos Bay utilizes the "Council-Manager" form of government. Under this system, the City Council sets policies which are then implemented by the City Manager who is selected and serves at the pleasure of the Council.
Mission Statement
The Mission of the City of Coos Bay is to work as a stable, progressive municipality to enhance the quality of life for all citizens through a government that is accessible to everyone and dedicated to the development of a diversified economy, sound fiscal planning and the preservation and enhancement of the cultural, historical and natural beauty of our area.
Vision Statement
Create a safe, clean and inviting City that protects and enhances our unique culture, history, and environment by working in a collaborative partnership that creates opportunities for the South Coast Region through living wages and affordable housing.
NOTE: City Hall Administrative Office is open from Monday through Friday - 8:00 a.m. to 5:00 p.m.
Duties
As the City's chief executive officer, I am also charged with preparation and administration of the City's annual budget, Urban Renewal plans.
None of these things are possible without a staff of professionals dedicated to those who work, live and visit our community. In Coos Bay we have five departments, each headed by a manager, who reports directly to me and who is selected on the basis of his/her qualifications and experience. They are Sami Pierson, Library Director; Mark Anderson, Fire Chief; Gary McCullough, Police Chief; Jim Hossley, Public Works & Community Development Director; and Susanne Baker, Finance Director. They are all are extremely competent in what they do which is reflected in the day-to-day service delivery that we provide.