The mission of the City of Coos Bay Parks Department is to provide and protect outstanding natural, scenic, cultural, historic and recreational sites for the enjoyment and education of present and future generations.
The Parks Department receives guidance from the Park Commission.
---
Mingus Park
Downtown's gorgeous park, oriental garden, playgrounds and fountain pool has something for everyone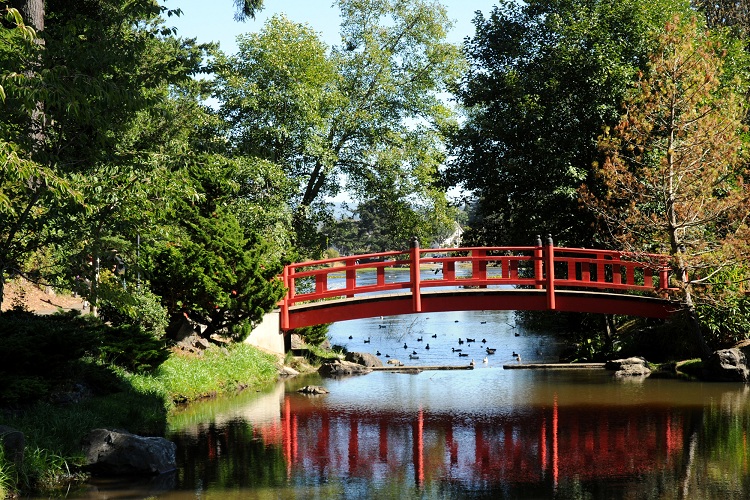 Mingus Park is located just a few minutes walk from the downtown business district. The park has a lake as its centerpiece with an arboretum on the northwest side of the lake, the city's municipal pool to the east, playgrounds to the south, an oriental flower garden to the west, and a skate park, tennis court and baseball field to the southeast. Mingus Park is a favorite with walkers who stroll along the paved trail that borders the water and winds through the tranquil Choshi Gardents. Children romp on the two playgrounds and visitors enjoy the picnic areas. Fountains in the center of the lake are lit with underwater lights at night, making them a beautiful feature in the late evening. Aquatic birds make the lake a home year-round, and visitors often bring bread scraps to feed them. The Friends of Mingus Park coordinate with local veterinarians for an Waterfowl Emergency Fund to help offset the cost for treatment of injured or sick waterfowl that call Mingus Park their home.
Land for Mingus Park was acquired through donations form the Perham Park Company and Joseph F. Williams in 1925. Additional land was purchased in later years. Originally the park was called Marshfield City Park and in 1937 the Parks Commission passed a resolution changing the name to Mingus Park in honor of local resident Dr. Everett Mingus. As chair of the Parks Commission, Dr. Mingus was instrumental in the park's development.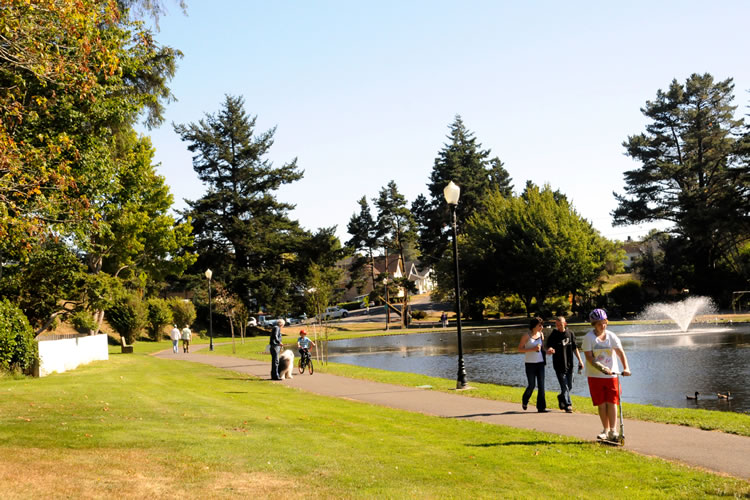 Mingus Park Pool
Nestled in the middle of wonderful Mingus Park
Open Year Round
Open year round for different types of swimming, they support a wonderful Lap Swim Program, summer programs for children to learn how to swim, and for families to have fun together. Mingus Park Pool is also the aquatic center for Marshfield High School's swim team and the Gold Coast swim team.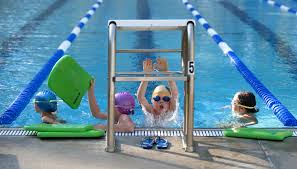 History
Mingus Park Pool was first established in 1949. The swimming pool was redone in 1998 through donations from Mrs. Vera Richter. The Mingus Park Pool Bath House was rebuilt in 1999 from general obligation bonds. The pool is a public infrastructure maintained and operated by a private group organization, Mingus Park Pool Management. The pool is 25 yards by 45 feet, 6 lanes, 3.5-8 feet in depth and is heated to between 81 and 83 degrees F (27-28 C).
John Topits Park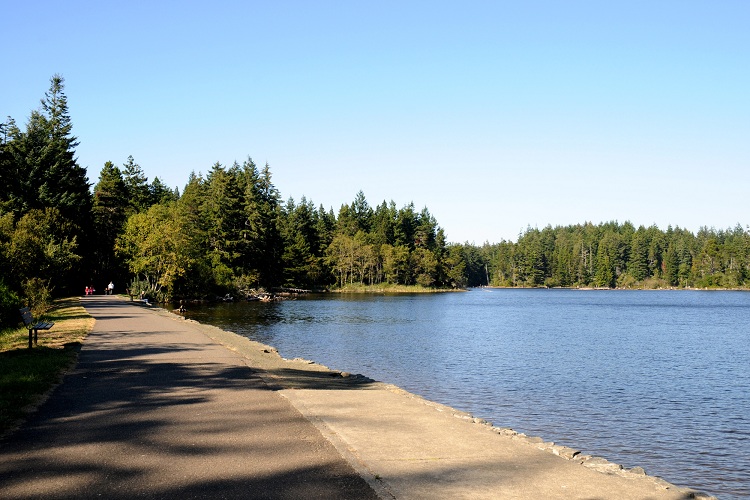 John Topits Park, in the northwestern section of Coos Bay, is a 120 acre natural area encompassing the Empire Lakes and protected coastal dune and forest land. No gas powered boats are permitted on the lakes making it a popular place for canoes, kayaks, and other motorized boats. There are 5.5 miles of pedestrian and cycling trails. The Empire Lakes are home to a variety of fish (bass, bluegill, perch,catfish), waterfowl and birds.
Related Documents
Marshfield Pioneer Cemetery
Historically, the cemetery served as the Coos Bay region's primary burying ground in the late nineteenth and early twentieth centuries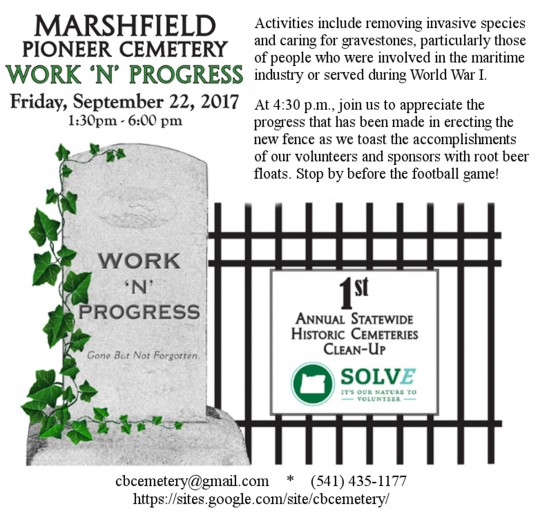 On July 14, 1888, the wealthy community landowner C. H. Merchant sold a piece of hillside property to the newly established Odd Fellows Cemetery Association for the sum of $350. The cemetery was officially dedicated as the Independent Order of Odd Fellows (I.O.O.F.) Cemetery in 1891 -- a community burying ground for citizens of Empire, Marshfield, and North Bend. During its primary period of use, from the late 1880's until 1930, over 2000 people were buried in the cemetery. During this period, most burials were hand-recorded in a set of two logbooks kept by the I.O.O.F. Cemetery Association's secretary.
Neighborhood Parks
Pocket parks in residential areas
Neighborhood pocket parks provide a smaller, more intimate place for the nearby community to gather, play, and enjoy a small oasis. Neighbors can visit, children can play, and everyone can enjoy a green space in the middle of the neighborhood.
Eastside Park
Eastside's neighborhood park has a playground, open grass, baseball backstop, picnic tables and a portable restroom. The park is located between D and E streets off of 5th Avenue. The park is just less than an acre in size. The access is unimproved and there is no off-street parking available. There is a paved switch-back trail from D street on the north.
Ed Lund Park
Empire's Ed Lund Park is adjacent to the Fire Hall and is within one half block of Newmark and the Empire business area. There is a children's play area, a large lawn, horseshoe pits, picnic tables and benches. Many community activies are held at Ed Lund Park, most notably the annual Empire Clamboree.
Taylor/Wasson Park
On the northwest part of the city, Taylor/Wasson Park is at the intersection of Taylor Avenue and N. Wasson Street. The park has large trees shading a children's play area and picnic tables.
Windy Hill Park
Eastside neighborhood park has an outdoor tennis court and a view of the Isthmus Slough drawbridge, along with colorful seasonal flowers.
Parks Commission
Overseeing, developing and protecting our parks
The Parks Commission serves in an advisory capacity to the City Council in the planning and development of city parks. Commissioners are appointed by the City Council and serve four-year terms.
The Parks Commission meets monthly or as needed.
Parks Commission Municipal Code 2.30
| | |
| --- | --- |
| MEMBERS | TERM ENDING |
| Bill Davis [ Planning Rep.] | 12/31/2024 |
| Beverly Meyers | 12/31/2024 |
| Ariann Lyons | 12/31/2022 |
| Colleen "CoCo" Sutton | 12/31/2024 |
| Bill Otton | 12/31/2022 |
| Patty Scott | 12/31/2024 |
| Sam Crowley | 12/31/2022 |
| Carmen Matthews [Council Rep.] | 12/15/2022 |
The commission shall review and recommend to the council, shall coordinate with the planning commission as appropriate, and shall assist staff in the preparation of parks plans, site and building designs, development standards, and recreation services. These general duties include, but are not limited to: the identification of potential new sites to be added to the park and recreation system; recommendations on acquisition of park and recreation property including fund raising, grant assistance, or other revenue sources; recommendations on designation of open space; and recommendations on development of pedestrian trails and bike ways for accessibility to and within the park system for recreation and for transportation within the city.
The Parks Commission follows the Parks Master Plan.
Parks Master Plan
Long-range vision for our parks
Park master plans provide the public a way to help determine the best uses for a specific site and to optimize management of the site's resources. We use your input combined with analyses of current trends and future needs identified in the National Recreation and Parks Association guide to help craft a long-range blueprint for use of a park site.
The plan serves as a long-range vision for future and current development and programming of park assets. Issues typically addressed include planned park elements, natural and cultural resource management, and general design concerns.
Download the 2013 Parks Master Plan
Appendix A: Adopted Park Master Plans (PROS 1987/91)
Appendix B: Public Involvement Results
Appendix C: Recreation Needs Assessment