A Great Place to Live, Work and Play
An extraordinary quality of life is what initially attracts many people and businesses to the Bay Area. The area offers an abundance of outdoor recreational activities, education opportunities, state of the art medical facilities, museums, unique shopping and restaurant experiences, full service libraries, and cultural events. Fishing, water sports, hiking, camping, boating, golfing, beaches and parks provide an abundant array of recreational activities. There are also a number of athletic clubs to choose from.
---
Weather
Tonight Showers - 40ºF
Friday Showers Likely then Mostly Sunny - 53ºF
Friday Night Mostly Cloudy - 36ºF
Saturday Chance Rain - 55ºF
Saturday Night Rain - 44ºF
Helpful Links
× Les' Sanitary Service

Coos Bay Sanitary Service and Les' Sanitary are both subsidiaries of Waste Connections and provide collection, transfer and recycling services. The office is closed on major holidays, but all garbage and recycling routes run as scheduled.

× Boys & Girls Club of Southwestern Oregon

The Boys & Girls Club of Southwestern Oregon is dedicated to assisting all youth to achieve their fullest potential by enhancing their self-esteem, providing positive role models, and by helping them develop the qualities needed to become caring, productive, responsible citizens. An after-school drop-in Youth Center (grades 1-6) and Teen Center (grades 7-12) provide arts & crafts, technology, a gymnasium, a central games room with pool, foosball, and bumper pool, access to tennis, and a learning center with educational enrichment programs.

× Little Theater on the Bay

Little Theatre on the Bay, known as "LTOB," is the second oldest continuous acting group in the state of Oregon. It is an all-volunteer non-profit organization. LTOB produces musicals, dramas, comedy, and variety shows of all kinds. LTOB's home is the historic Liberty Theater.
View All
Quality of Life
An extraordinary quality of life is what initially attracts many people and businesses to the Bay Area. The area offers an abundance of outdoor recreational activities, education opportunities, state of the art medical facilities, museums, unique shopping and restaurant experiences, full service libraries, and cultural events. Fishing, water sports, hiking, camping, boating, golfing, beaches and parks provide an abundant array of recreational activities.
History
The center of trade and commerce for the entire southwestern Oregon coastal region
Coos Bay is the largest of the communities that comprise Oregon's Bay Area. The city, founded in 1853, was named Marshfield after the Massachusetts hometown of the city's founder J. C. Tolman, and was incorporated in 1874 under that name. In 1944, residents voted to change the name to Coos Bay to match the area's prominent geographic feature.
The name "Coos" is derived from one of the area's Native American tribes and has two Indian meanings: lake and place of pines. The Confederated Tribes of Coos, Lower Umpqua and Siuslaw Indians and the Coquille Indians call the Coos Bay region their ancestral homeland. The tribes were dependent upon the land and the water, the Pacific Ocean and other waterways, and the forests and meadows providing sustenance.
Since the 16th century, the area's dramatic beaches, promontories, blazing sunsets, endless stands of massive forests, golden dunes, and waters teeming with fish have awed explorers of the southern Oregon coast. Sir Francis Drake is believed to have sought shelter for his ship, the Golden Hinde, and its crew near Cape Arago in 1579. Trader and explorer Jedediah Smith came to the area for furs and the Hudson's Bay Company sent explorers to search for an inland passage.
Coos Bay, Oregon's largest bay, has represented a commercial passage to the sea from pioneer days to the present. In the mid 1800's, the waterways and forests that had supported the Native American settlements equally encouraged European settlement. Around the turn of the century coal, mining and shipment of coal were a major part of the economy, and the region prospered as a center for wood products, shipbuilding, shipping and products of the sea. Transportation systems radiated from the city to inland Oregon, the Pacific Ocean and other areas of Coos County. The mosquito fleet of small boats delivered people and products to places of pleasure, culture and transshipment to other parts of the world.
Education
Home to many educational opportunities
Southwestern Oregon Community College
Coos Bay is home to the region's largest educational institution, Southwestern Oregon Community College.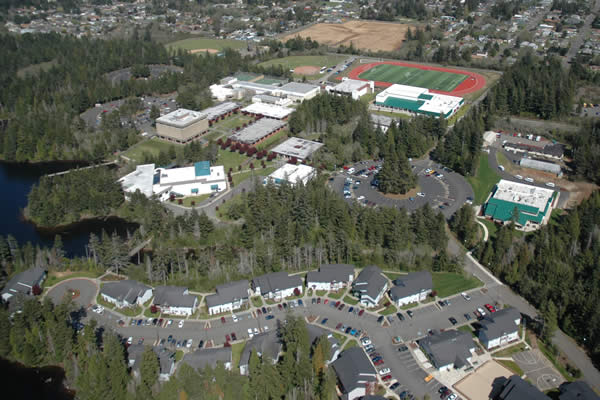 SOCC provides a variety of career programs, first and second year college level course, and upper division courses offered through extension programs of Linfield College, Southern Oregon University, Eastern Oregon University, and Oregon State University. Tuition at SOCC is the same for in‐state and out‐of‐state students. Financial aid, student housing, fitness center, and food services are a few of the amenities offered by the college. The college campus is located in the western part of the city in a 125‐acre wooded area of Empire Lakes Park.
Southwestern Oregon Community College
Phone: 541‐888‐2525
1988 Newmark Avenue, Coos Bay, OR 97420
www.socc.edu
Coos Bay School District
Primary and secondary students are served by the Coos Bay School District, with approximately 3,100 students from kindergarten through 12th grade. Well‐coordinated programs provide students with strong basic skills and specialized training. The district is comprised of one high school (Marshfield High School), two intermediate schools (Millicoma Intermediate School and Sunset School), two elementary schools (Blossom Gulch Elementary and Madison Elementary) and several alternative‐school programs at the Harding Learning Center.
Coos Bay School District
Phone: 541‐267‐3104
1255 Hemlock Avenue PO Box 509
Coos Bay OR 97420
www.cbd9.net
Other local schools include Lighthouse Charter School (public) as well as Kingsview Christian School and Christ Lutheran Church (both private).
Health Care
Coos Bay is the area's hub for medical care
Bay Area Hospital is a 172‐bed publicly owned care facility and is the largest hospital on the Oregon Coast, serving as a regional referral center. The hospital and its medical staff of 100 physicians offer a comprehensive range of diagnostic and therapeutic services. New and expanded medical services include laser treatments, MRI, CT, mammography, stereotactic breast biopsy, and laparoscopy procedures. The Radiation Therapy Center provides cancer patients with treatments, surgical intervention, and chemotherapy.
The region is served by three well‐established medical facilities including North Bend Medical Center, Bay Clinic, and South Coast Orthopedic Associates.

Museums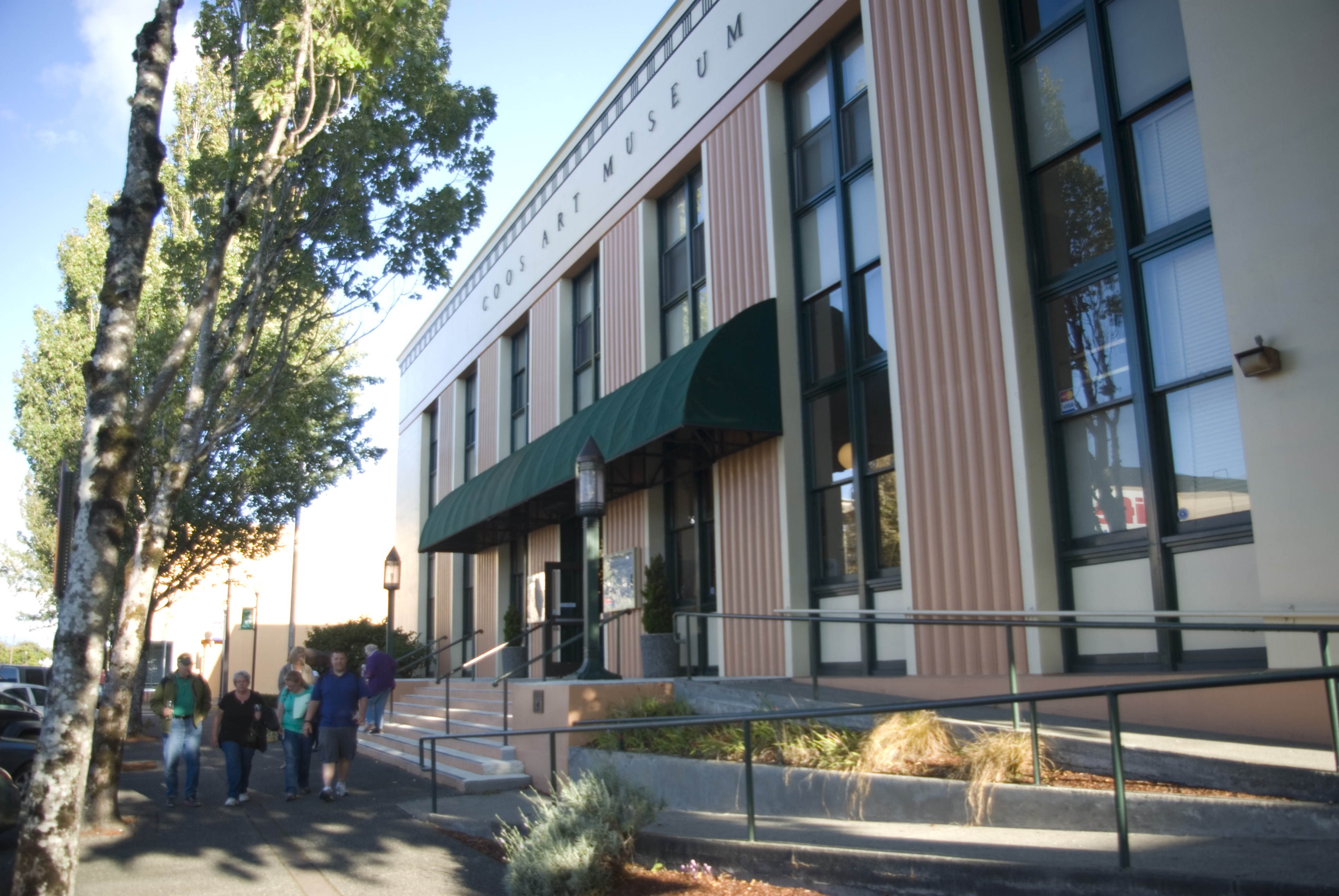 The Coos Art Museum is located in downtown Coos Bay in the former city post office. The permanent collection includes contemporary American prints and Northwest art, in addition to changing and permanent exhibitions. Several galleries display local artists. The Steve Prefontaine Memorial Collection is located on the 2nd floor.
www.coosart.org
235 Anderson Avenue, Coos Bay OR 97420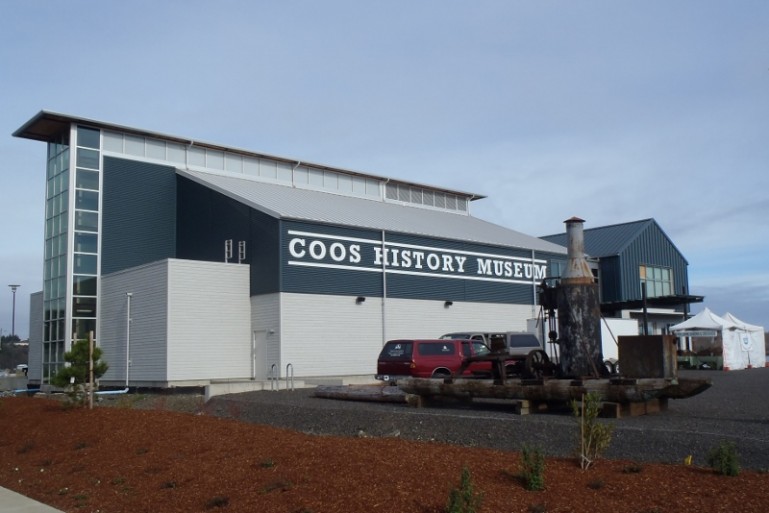 The Coos Historical and Maritime Museum New History Center serves to enhance the intellectual, civic, and cultural life of Oregon's South Coast by facilitating awareness of local history. The museum's displays transport visitors back in time to Coos and Coquille Indians' culture and the legacy of the region's first settlers. The building on highway 101 opened in 2014 with a vibrant, state-of-the-art, purpose-built waterfront facility that showcases the exhibits and provides meeting and event space.
www.cooshistory.org
1210 N Front Street, Coos Bay OR 97420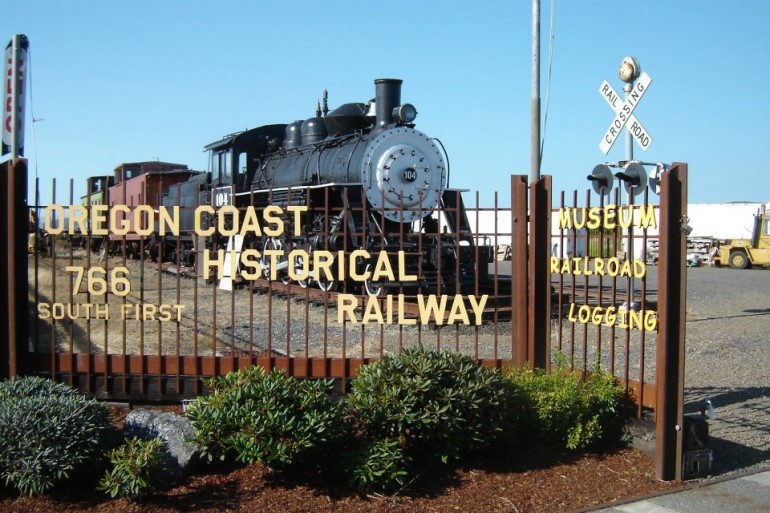 The Oregon Coast Historic Railway preserves an important part of the region's history by providing a place to restore and display vintage railroad and logging equipment. Along with several locomotives, engines, cars and cabooses, the museum has other equipment, large artifacts, hundreds of photographs, newspaper articles and other material in the museum and gift shop. The museum's signature piece is a restored 1922 Baldwin steam locomotive that worked in the region's forests, and sawmill and logging equipment.
www.orcorail.org
766 S 1st Street, Coos Bay OR 97420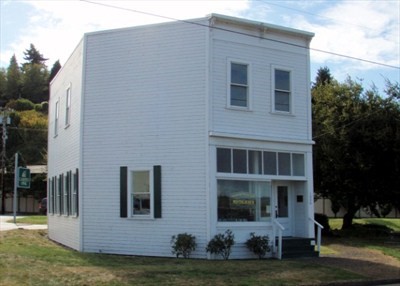 The Marshfield Sun Printing Museum is a throwback to the old days when an ink-stained newspaper editor could write the story, edit it, set the type, and print the page. You can see the old press which is still operational and look at vintage issues of the Sun. It features original equipment of The Sun Newspaper (1891 –1944) and exhibits on printing and local history. The museum is located on the historic Front Street and is near the Coos History Museum. The museum is open on Tuesday through Saturday afternoons (1pm - 4pm) from Memorial Day to Labor Day. Call 541-266-0901 or 541-267-3762 for more information or to schedule a tour. The museum is located next to the Coos Historical and Maritime Museum.
1049 N Front Street, Coos Bay OR 97420
State Parks
Three jewels of the South Coast showcase magnificent views and spectacular gardens
A trio of state parks are located just 13 miles southwest of Coos Bay: Sunset Bay State Park, Shore Acres State Park, and Cape Arago State Park.
Sunset Bay State Park offers extensive picnic and overnight camping facilities, with a spectacular half-moon bay boasting shallow swimming areas and sandy beaches.
Shore Acres State Park features the luxurious gardens from the original estate of pioneer lumberman and shipbuilder Louis J. Simpson. A fully enclosed observation building now occupies the site of Simpson's mansions, offering spectacular view of rugged seascapes, towering storm waves, and glimpses of migrating whales from December through June. The extensive gardens are home to carefully curated plants from around the world, featuring stunning seasonal blooms and a holiday light display from Thanksgiving to New Year's Eve. Shore Acres Holiday Lights has over 300,000 holiday lights with numerous light sculptures and 30 large trees decorated by community groups, including one by the City of Coos Bay.
One mile to the south, Cape Arago State Park has outstanding overlooks, hiking trails, picnic tables, and excellent opportunities for viewing tidepools life and marine mammals (whales, seals, and sea lions).
A hiking trail, which is part of the Coast Trail, connects the three parks.
City Parks
Places to enjoy and relax
The City has several wonderful parks for residents and visitors to enjoy.
Mingus Park and Mingus Park Pool
Tsunami Readiness
Residents of the Oregon Coast should be aware that the probability of a significant earthquake and tsunami is real and serious threat. While an earthquake of 9.0 or greater would devastate the area, there are things that we, as residents or visitors to the area, can do to prepare for a natural disaster. We should be aware that an earthquake can shake the area at any time with little or no warning and we will likely be surprised when it happens.
Before the Disaster
Put together a disaster preparedness kit. We need to plan for a disruption of services. Police, Fire and EMS responders will be busy assessing damage and prioritizing their response. The larger the incident, the longer we may be without water, electricity and other necessities that we often take for granted. There are several websites that offer lists of items to keep on hand, but disaster preparedness kits should be customized to your individual needs. For more, visit www.ready.gov/build-a-kit
Be aware of items in your home or business above waist height that may be fall or be thrown with violent shaking. Attach bookcases, cabinets and tall furniture securely to a stud wall.
Identify safe places in each room of your home, workplace or school. A safe place may be under a desk or table, against a wall away from windows, or in a doorway.
Keep a flashlight and sturdy shoes by each person's bed.
Learn how to shut off gas valves in your home and keep a wrench available for that purpose.
Communicate with your friends, neighbors and family about your plans, where to meet if separated, and how to let others know if you are okay or need help.
Know what areas are at risk for a tsunami and how to get to high ground. Know where to find designated "Assembly" areas. These are safe places around the community where people can get temporary shelter, get information about the disaster and recovery efforts, and reconnect with family or friends.
During an Earthquake
Drop, cover and hold. Move as little as possible, but protect your head from falling debris.
Stay away from windows to avoid being cut by breaking glass.
If you are outside, find a clear spot away from buildings, powerlines or large trees.
If you are in your vehicle, stop in an open area away from buildings, powerlines or large trees. Avoid bridges that may have been damaged.
Following an Earthquake
After the shaking stops, if you are in a low area at risk of a tsunami, head for high ground immediately. A Tsunami or tidal surge is expected within 15 minutes after a local earthquake. These extreme waves can continue for 12 hours after the initial earthquake, so do not return to flooded areas until it is communicated as safe.
We can expect mild to severe aftershocks for several days after the initial event.
Quickly assess your surroundings. Check to see if you or your family need assistance. Inspect your home and determine if it is safe to stay there.
Check to see if your neighbors need help. Even if you've prepared, we can expect that some families will not be adequately prepared.
If you need assistance, Assembly areas will have information about how to get the help you need.
Tsunami Map
Click on the following link to view an interactive Tsunami Evacuation Map
We are a community and recovery efforts will be more successful if we work together!
Recycle
Recycling and composting can prevent the waste of potentially useful materials and reduce the consumption of fresh raw materials, energy usage, air pollution and water pollution.
The Environmental Protection Agency estimates that 75% of the American waste stream is recyclable, but we only recycle about 30% of it. The average American generates over 4 pounds of trash every day, about 1.5 tons of solid waste per year. Reducing, reusing and recycling can help to make more efficient use of resources.
Les' Sanitary Service and Coos Bay Sanitary provide solid waste collection (i.e. trash pick-up) and recycling services in Coos Bay. Curbside recycling bins are provided with garbage service, and drop-off recycling is accepted at the waste transfer station at 1260 S 1st St. for a small fee.
These items can be recycled by Les' Sanitary:
Plastics in the shape of a jug, tub, or bottle. NO LIDS. All plastic bottles, tubs and trays except #6 are accepted. Rinse and flatten jugs and discard all lids. Not accepted are block foam, packing peanuts, Tupperware or Rubbermaid items.
Paper: computer paper, newspapers, mail, magazines and paper bags. Newspaper, newspaper inserts, computer paper, white & colored paper, junk mail, magazines, envelopes (plastic windows okay), catalogs, cereal and shoe boxes, paper egg cartons, wrapping paper and cardboard are all accepted. Aseptic cartons (milk cartons and juice boxes) are acceptable if rinsed and plastics are removed. Not accepted are wax boxes, paper plates, tissue paper, or items with glitter or foil.
Cardboard: boxes should be broken down and flattened.
Metal: food and beverage containers, no unattached lids and aluminum foil in a ball no smaller than a fist. Aluminum trays, tin cans, empty aerosols cans are accepted. Rinse, remove labels, and flatten. Aerosol cans must be punctured. Pressurized canisters are not accepted.
Glass: all colors of glass bottles and jars. NO LIDS. Rinse containers and discard tops, labels are okay. Not accepted are broken glass, window glass, light bulbs, ceramics or dishware. Recycle fluorescent light bulbs as hazardous waste.
Electronics: computers, laptops, monitors, separated computer circuit boards, televisions, stereos, computer peripherals, and other electronic devices must be placed in a separate container.
All recycle materials should be clean and free of food scraps with no lids.
Recycling has many benefits:
Reduces the amount of waste sent to landfills and combustion facilities.
Conserves natural resources such as timber, water, and minerals.
Prevents pollution by reducing the need to collect new raw materials.
Saves energy.
Reduces greenhouse gas emissions that contribute to global climate change.
Helps sustain the environment for future generations.
Helps create new well-paying jobs in the recycling and manufacturing industries in the United States.
Consider the effects of waste and the potential for waste reduction:
100 million trees are ground up each year to produce junk mail.
Recycling a 6 foot stack of newspapers saves one 35 foot tree.
Producing paper from recycled waste uses 50% less water and 60% less energy.
For every one ton of paper recycled, 500 lbs of air pollutants are not emitted.
One recycled aluminum can saves enough energy to power a television or computer for 3 hours or a 100-watt light bulb for 20 hours.
Recycling one glass bottle saves enough energy to light a 100-watt light bulb for 4 hours.
Recycling a one-gallon plastic milk jug will save enough energy to keep a 100-watt bulb burning for 11 hours.
Recycling one pound of steel conserves enough energy to light a 60-watt bulb for 26 hours (5,450 BTU). (Approx. 7 cat food cans or 4 dog food cans = 1 lb.)
Recycling a one-foot high stack of newspapers saves 71.3 kilowatt hours of electricity…enough to heat a home for 17 hours.
Recycling a six-pack of recycled aluminum cans saves enough energy to drive a car 5 miles.
The Container Recycling Institute (CRI) estimates that the 36 billion aluminum cans landfilled last year had a scrap value of more than $600 million.
Americans throw away about 28 billion bottles and jars every year.
Composting is also an effective way to reduce waste and create beneficial soil nutrients. Through the natural process of decomposition, organic materials such as leaves, grass, yard clippings and food waste can be turned into a soil-enriching substance. Materials can be composted in a compost pile or bin. Simply spread a layer of leaves, straw or hay on the ground, add organic materials in an even layer, add water until it is as moist as a wrung-out sponge, cover with a 2 to 3 inch layer of soil, and repeat. The pile should be kept moist and can be turned every few weeks with a garden fork to add oxygen and accelerate the decomposition process. Finished compost is usually done within six months. For more information, search online for composting tips.
Materials for composting:
Leaves, shredded if possible
Grass clippings
Spent flowers
Garden clippings
Young weeds (without seeds)
Fruit and vegetable peelings
Clean egg shells
Coffee grounds, filters, and tea bags
Old fertilizer
Shredded bark mulch
Straw or hay
Potting soil
These materials cannot be composted: dairy products, oils and fats, meat, fish, bones, pet manure, cat litter, cooked food with seasonings, diseased plants, black walnut leaves, bread, and invasive weeds.