Honor - Integrity - Excellence - Teamwork
The Mission of the Coos Bay Police Department is: To efficiently provide quality law enforcement services to our community by promoting a safe environment through a police-citizen partnership, with an emphasis on mutual trust, integrity, fairness, and professionalism.
CBPD is proud of the spirit of cooperation within our community and is committed to working together to make certain that Coos Bay is a safe and pleasant place to live and work. The officers and staff of the CBPD are dedicated to the highest levels of integrity and professionalism and pledge to continue to work with the community to solve problems which affect the quality of life in Coos Bay. We accomplish this through a variety of partnerships with the community and other service providers in the Coos Bay area. Our department values emphasize the importance of being leaders in the community and building relationships established on trust.
Please join us in making Coos Bay a safe place to live, work and visit.
You can follow us on our Facebook page.
---
Get To Know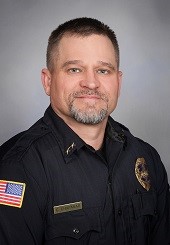 Chris Chapanar
Chief of Police
Contact
541-269-8911
Helpful Links
× Coos County Sheriff's Office

The Sheriff's Office provides law enforcement services to the residents of Coos County and security services to the Court System. The Sheriff has concurrent jurisdiction with local law enforcement agencies and cooperates closely with authorities and local agencies.

× Coos Bay Police Facebook Page

CBPD maintains an active Facebook page with photos and information.

× Oregon State Police

Oregon State Police (OSP) is a multi-disciplined organization charged with protecting the people, wildlife, and natural resources in Oregon. OSP enforces the traffic laws on the state's roadways, investigate and solve crimes, conduct post-mortem examinations and forensic analysis, and provide background checks and law enforcement data. OSP regulates gaming, the handling of hazardous materials and fire codes, and educates the public on fire safety and enforce fish, wildlife, and natural resource laws.

Southern Command Center can be reached at 800-442-2068
View All
Contact CBPD
Please call 9-1-1 for emergencies.
For non-emergencies, call Dispatch at 541-269-8911 and select option 0.
The Coos Bay Police Department offices are located in the Coos Bay City Hall. The lobby is open from 8am to 5pm on regular business days.
The CBPD has a Facebook page.
Police Organization
Coos Bay Police Oganization & Staff
The Coos Bay Police Department staff currently consists of the Chief of Police, two Captains, four Patrol Sergeants, twelve Patrol Officers, two Criminal Detectives, one School Resource Officer, and one Community Resource Officer. The Communications Division is comprised of two Supervisors and eight Dispatchers. Support staff includes one Records Supervisor, two Records Specialists, one part-time Evidence Custodian, and numerous volunteers.

The Criminal Detectives handle major crime investigations and are members of the Coos County District Attorney's Major Incident Team.

The Patrol Division provides emergency response throughout the City 24 hour a day, seven days a week. These officers are divided into four platoons and provide traditional police duties, as well as crime prevention and community problem solving services.
The School Resource Officer is assigned to work in the schools of the Coos Bay School District. The Community Resource Officer works primarily with our homeless population to assist them in finding resources to help them locate permanent housing and gain stability.

The Communications Division is one of Coos County's two 9-1-1 Centers and provides police, fire and emergency medical dispatch for Coos Bay Police and Fire Departments, Coquille Tribal Police, and Coquille City Police and Fire Departments.

The Support Services Division provides state and federal mandated archival record keeping duties, statistical analysis and dissemination of information. Staff assigned to Support Services works closely with the Courts, District Attorney's Office and other law enforcement and public agencies to ensure information is collected and disseminated in accordance with State statutory requirements.

The Department's Volunteer Group is made up of Reserve Police Officers and civilian volunteers. Typical duties range from working with sworn Police Officers on patrol to enforcing disabled parking rules and regulations, enforcing special parking districts throughout the City and through a cooperative agreement in the City of North Bend.

Our agency continuously reviews the way we deploy resources to increase our ability to respond to community needs and advance the use of technology to enhance our efficiency and effectiveness. However, technology can never replace the value that you, as citizens, have in sharing information with your local law enforcement officers.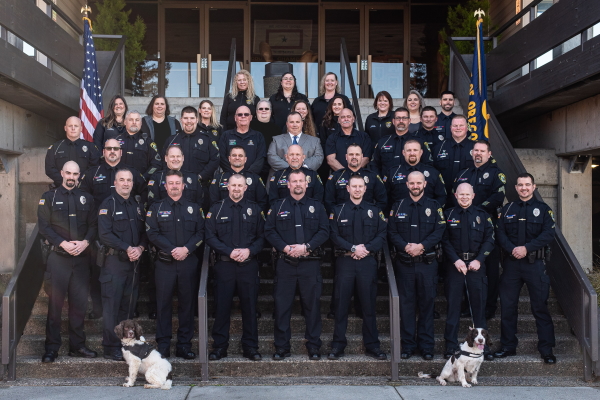 Coos Bay Police Department, February 2020
K9s
CBPD's K9 officers are valuable members of the police force who serve the community with honor and integrity.
K9 BEN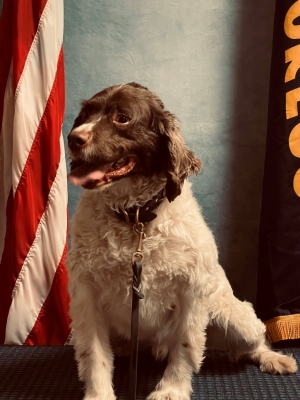 Ben is a narcotic detection K9 trained to detect methamphetamine, heroin and cocaine. Like Katie, he is an English Springer Spaniel.
Ben has been with CBPD since February 2020, when he and his partner, Officer Scoville, came to CBPD from the Coquille Indian Tribal Police Department.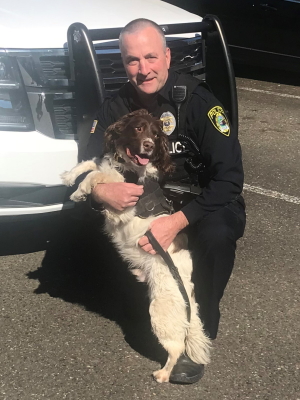 K9 MIKA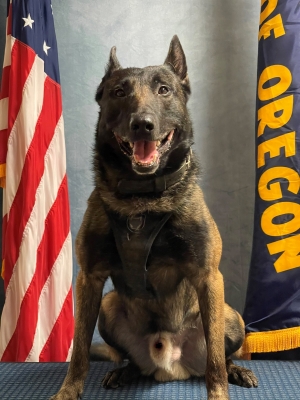 Mika, a Belgian Malinois, joined CBPD in November 2020 as a patrol/apprehension K9. His work includes patrol, property searches, search and rescue, tracking, and apprehension. He was born in 2017 and was trained in Holland. Mika is partnered with Officer Waddington.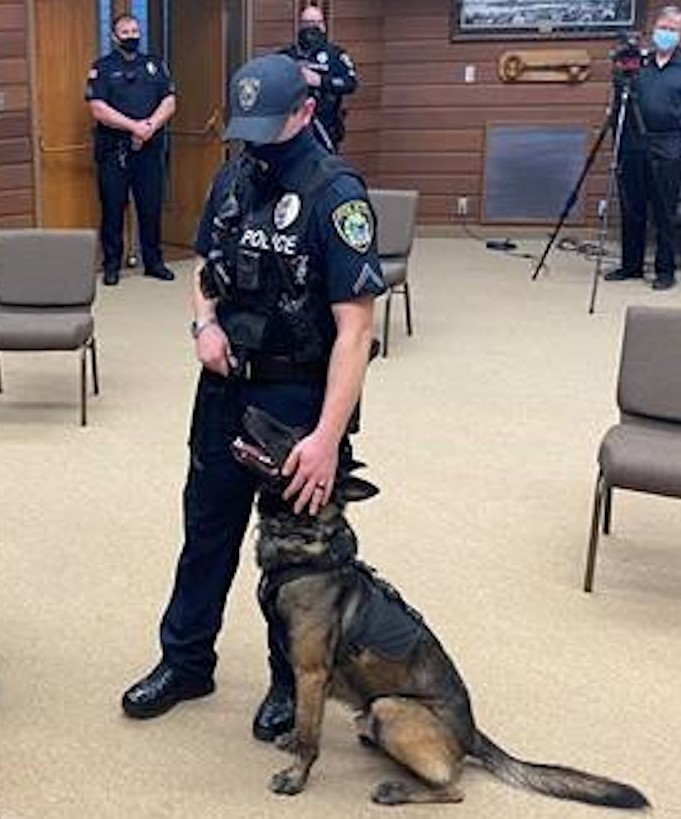 Camping Ordinance
On August 3, 2021, the Coos Bay City Council passed a city ordinance regulating when, where, and how people can camp within the City of Coos Bay. The ordinance was needed as court decisions and ruling from the Department of Justice removed all previous laws/ordinances related to camping within the city. CBPD believes the ordinance will protect the rights and interests of ALL citizens and business owners within the City of Coos Bay.
TERMINOLOGY
"Camp" or "camping" means to pitch, erect, create, use, or occupy camp facilities for the purposes of habitation, as evidenced by the use of camp paraphernilia.
"Camp facilities" include, but are not limited to, tents, huts, temporary shelters, or vehicles.
"Campsite" means any place where one or more persons have established temporary sleeping accommodations by use of camp facilities and/or camp paraphernalia.
"Family" means two or more persons related by blood, marriage, adoption, legal guardianship, or other duly authorized custodial relationship, or not more than two unrelated adults.
"Parking lot" means a developed location that is designated for parking motor vehicles, whether developed with asphalt, concrete, gravel, or other material.
CAMPING ON PRIVATE PROPERTY
Camping is allowed on private property with the following restrictions:
Campers must have written authorization from the property owner or legal tenant.
Property owner who permits camping may revoke that permission at any time and for any reason.
Trash and sanitation services must be provided by property owner
No "For Profit" camping allowed. Property owner cannot require or accept any payment or service in exchange for providing the authorization to camp on the property, other than requiring campers to perform services necessary to maintain safe, sanitary, and habitable conditions.
Property owner must provide a storage area for campers to store any personal items so the items are not visible from any public street.
Up to three total motor vehicles or tents, in any combination, is allowed in a parking lot of property that is:

owned by religious institutions or place of worship, or
occupied and used by any organization or business primarily for nonprofit, commercial or industrial purposes, or
vacant or unoccupied commercial or industrial real property, after the property owner has registered the temporary camping location with the city.

Private residences may allow one family to use either the back yard of the residence for tent camping or use a driveway for RV or vehicle camping.
CAMPING ON PUBLIC PROPERTY
Camping is allowed in public spaces and rights of ways between 8PM and 6AM, except those areas deemed prohibited in CBMC 8.65.040 (see below).
Camping is prohibited in the following public property:

All parks, publicly owned parking lots, & publicly owned property not open to the public
All areas zoned for low density residential, small lot residential, and medium density residential
Areas east of Highway 101, along Newmark Avenue, and west of Empire Boulevard
All public areas between 6AM and 8PM

No camping paraphernalia can be stored or left unattended on public property between 6AM and 8PM
A person or persons camping in a vehicle or recreational vehicle must adhere to parking regulations CBMC 10.15 and public rights-of-way regulations CBMC 12.20.
Property Watch
Cooperating with commercial properties and business
Property Watch is a CBPD program to assist owners of commercial properties, businesses, and apartment complexes curb unwanted activity that occurs after business hours or when the owner or manager cannot be contacted. Without authority granted by the person responsible for the property/business, the police are often not able to take action on non-criminal issues that occur on private property. Some examples would be non-residents/customers hanging out on property, skateboarding, non-customer vehicles in the parking lot, etc.
The Property Watch program allows the person responsible for the property to partner with the police and authorize the police to act on their behalf when they are not there. The legal foundation is a signed agreement that provides the authority for police to contact people that are on private property and ask them to leave. The goal is to have the police legally able to assist in helping keep property safe when the owners or managers are not there. There is no cost to be part of the program, it is renewed yearly, and the property owner/manager can withdraw from the program at any time. Property Watch is not intended to replace private security, but to be an additional tool for cooperation between CBPD and property owners/managers. The Property Watch program is only for commercial properties and businesses in the City of Coos Bay, not for properties outside the city limits or for single residential houses.
To sign up for Property Watch, please download the Property Watch Packet agreement, read it, fill it out and sign it, then return all pages to the Coos Bay Police Department. When the application is accepted, the owner/manager will be notified and provided with a sign to place in the window so that the public and Police Department personnel can see it.
Graffiti
3 D's of Graffiti Prevention: Deter it, Document it, and Deal with it!
Deter It
Take steps to prevent being a victim of graffiti vandalism.
Light it up. Install motion sensor lighting to alert you to vandals and scare them away. Good lighting is one of the best deterrents! When asked, graffiti vandals admit their biggest fear is getting caught.
Restrict access. The proper placement of entrances, exits, fencing, landscaping, and lighting discourage criminal activity. Incorporate natural deterrents, such as shrubs, thorny plants and vines to restrict vandal access. Make it as difficult for them as possible.
Catch vandals in the act. If you own a home or business in a high graffiti area, consider investing in a motion activated camera. Cameras such as these can be strategically and discreetly located to capture photos of the vandals in the act. You can even pool resources with your neighbors and get a camera that can be shared among you.
Get the word out! Coos Bay is offering a $50 reward to anyone providing information which leads to the arrest and conviction of graffiti vandals.
Document It
If your property gets hit by graffiti vandals, or you see graffiti anywhere in the city, report it. Reporting graffiti is easy, takes about 5 minutes & could possibly entitle you to a $50 reward. As soon as you see graffiti, report it!
You'll need to know:
Where the graffiti is located,
When it occurred or you first discovered it,
What the graffiti is (words, drawings, colors), and
Who did it (if known), or the description of any suspects you may have.
If you can, grab your camera or phone and take a few pictures so you can email them later.
Then call! You can call:
Coos Bay Police non-emergency line, 541-269-8911
Coos Stop Crime anonymous crime reporting hotline, 541-267-6666
Your report will remain anonymous, but if you provide your name and contact information you may get a reward!
IF YOU ARE A WITNESS TO GRAFFITI VANDALISM AS IT IS HAPPENING, DIAL 911. Please provide as much information as possible about the suspect and location.
Deal With It!
Remove graffiti promptly!
Graffiti sends the signal that nobody cares, attracting other forms of crime and street delinquency to the neighborhood.
Graffiti decreases a resident's feeling of safety. Neighborhoods with graffiti see a decrease in property values and a loss of business growth and tourism because of the perception of blight. The appearance of graffiti is often perceived by residents and passers-by as a sign that a downward spiral has begun, even though this may not be true. Patrons of buildings, parks, or public facilities where graffiti vandalism has occurred may feel that if graffiti is tolerated, then other more serious crimes, such as theft and assault, may also go unchallenged.
While removing graffiti promptly may be difficult, studies show that removal within 24 to 48 hours results in a nearly zero rate of reoccurrence. Once graffiti is cleaned up, work to change the environment so that it does not occur again in that location. Crime prevention strategies such as changing lighting, landscape, and access to property are effective tools.
Graffiti is property vandalism. It's not art, it's not OK.
Internet Complaint
Report Internet crime and fraud
The Internet Crime Complaint Center (IC3) is a partnership between the Federal Bureau of Investigation (FBI) and the National White Collar Crime Center (NW3C). IC3 accepts online Internet crime complaints filed by the person who believes they were defrauded or filed by a third party to the complainant.
Internet crime is defined as any illegal activity involving one or more components of the Internet, such as websites, chat rooms, and/or email. Internet crime involves the use of the Internet to communicate false or fraudulent representations to consumers. These crimes may include, but are not limited to, advance-fee schemes, non-delivery of goods or services, computer hacking, or employment/business opportunity schemes. If you believe you are the victim of an Internet crime, or if you are aware of an attempted crime, you can file a complaint with IC3.