A list of up-coming events for the City of Coos Bay. To view meeting agendas go to the Agendas and Minutes pages. For recreational events in the area visit Oregon Adventure Coast's Events page.
Wed, October 18, 2017 - 7:00 pm
Folk Tunes from Finland
Coos Bay Library

Enjoy the Coos Bay Library as they host Vellamo featuring Pia Leinonen and Joni Tiala, performing folk tunes from Finland on October 18 at 7 p.m. The duo's performances and songwriting have been characterized as haunting melodies. The combination of Leinonen's ethereal lead vocals and Tiala virtuosic guitar stylings are not to be missed.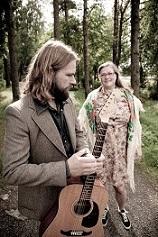 Tue, October 31, 2017 - 3:00 pm
Halloween Happenings in Downtown
Downtown Coos Bay

Bring the kids to downtown Coos Bay for two super fun events! The annual Coos Bay Downtown Association Trick-or-Treat happens on October 31 from 3 p.m. to 5 p.m. at participating downtown businesses with the pumpkin poster displayed.
Kids can also have a hoot on 4th Street from 3 p.m. to 5 p.m. choosing goodies from the Trunk-or-Treat! Family friendly and not too scary!